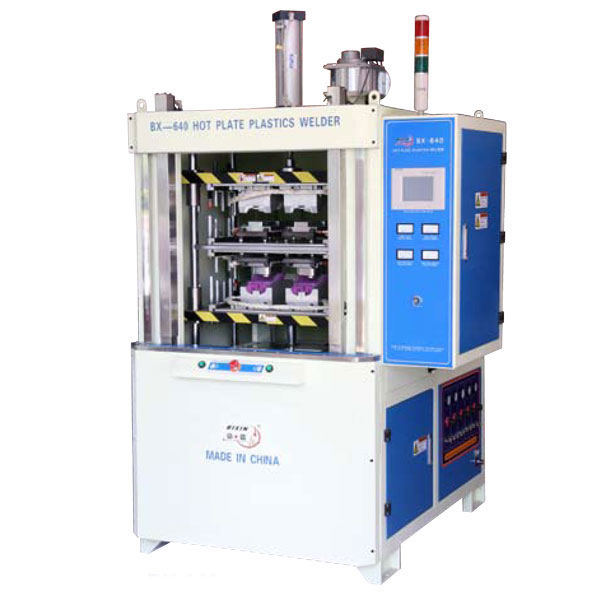 Hot-plate type plastic welding machine
Welding principle of hot-plate type plastic welding machine:
Hot-plate type plastic welding machine utilizes the principle of electric smelting to accurately control the temperature variation, besides it isequipped with perfect mechanical device which can achieve perfect welding. For the workpiece whose welding area is large and the welding requirement is high, it has excellent performance.

Scope of application :
It is suitable for the large irregular products which must be watertight,airtight and high-strength test, such as car light, instrument panel,bumper, washing machine's balance ring, dust collector, floating ball and autom obile's plastic oil tank, etc.
Features of the whole machine:
◎It is controlled by PLC programmable controller withaccurate control.
◎Chromic steel bar and self-lubricating bearing have slidingactuation withstable and accurate motion.
◎Adopt the thermal conductive plate with imported special alloy. The welding isaestheticwith extremely long service life.
◎Branded pneumatic components with quick and sensitive response,which can improve the working efficiency.
◎Constant-temperature control system , which is designed for ensuring the consistent welding.
◎Protection device of error action, which is designed for avoiding the loss.
◎It is equipped with air renewal system which can automatically evacuatethe exhaust gas in order to guaranteethatthe working environment will have no pollution.